This is that tough time of year between the end of the NCAA March Madness and Preseason Football. In any other year, hockey could keep me entertained since the NHL playoffs don't seem to end until June. In fact, last season was great because my team finally won the Stanley Cup after being the laughingstock of the league and even the subject of rumors of contraction. I got to see the Lightning play before they had their own arena. My ex-fiance's father had 4 season tickets, so we went to a ton of 1st season Lightning games out at the fairgrounds. I just couldn't believe that my team had finally won the big one (sorry Trixie; I'm always pulling for Da' Leafs as well).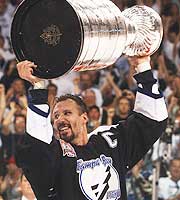 Da Cup Baby!!

It was a great way to wait until the start of football. However, this summer will be different. No hockey and well, let's face it, the NBA is a little dull these days. It's strange that since Jordan retired, we all seem a little less interested in basketball. Of course, March Madness pulls us in like our lives depended on it, but the NBA just doesn't have it anymore.

What has happened to the NBA? Remember when Jordan was playing? Oh my god, everyone and I mean everyone was glued to their TV's watching the Bulls pull another series out. Unless there is a brawl a la the Pistons and Pacers, no one really cares. Oh sure, there are still some awesome players like Duncan, Garnett, Kidd, and even Shaq. But the NBA lacks the drawing power it once had. I wish I had an explanation for the downfall, I really do. I'd like to know, contact the NBA, and have them fix it. I still love the Spurs but if they're not in the Finals and I don't happen to be watching TV at the time .... chances are I won't catch the game.

But there are reminders of whats to come in the fall in the spring. The NFL draft comes and goes in April. The NFL draft is the cocktease of sports; it's just enough to give you a taste of the football season coming up, but it won't satisfy you no matter the situation. So I'll just catch a few baseball games (pro and minor league) and just bide my time 'til preseason.